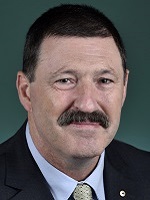 Greetings from the Australian National University in Canberra, where the
ANU Energy Update 2017
just opened. The keynote speaker: are Dr Alan Finkel, Chief Scientist and Ms Audrey Zibelman, CEO Australian Energy Market Operator (AEMO).
The opening address is by
Dr Mike Kelly
, Shadow Assistant Minister for Defence Industry and Support. Dr Kelly pointed out the defence dimensions of energy policy. He also described the Snowy Hyro Scheme as the "grandfather of renewable energy". He pointed out that the renewable energy stored in the Snowy Hyrdo Scheme now comes from sources including South Australian wind farms.
ANU Energy Change Institute
2017 Energy Update and Solar Oration
Program

8.00-8.30 Registration
8.30-9.00 Introduction: Professor Ken Baldwin, Director, ANU Energy Change Institute
Welcome: Professor Brian Schmidt, Vice-Chancellor, ANU
Opening Address: The Honorable Dr Mike Kelly, Shadow Assistant Minister for Defence Industry and Support
9.00-10.15
Keynote address: Implementing the National Electricity Market Review, Dr Alan Finkel, Chief Scientist
10.15-11.00 Morning Tea11.00-12.30 Special Presentation on the 2017 World Energy Outlook, Mr Ian Cronshaw, International Energy Agency (IEA), Paris
12.30-13.30 Lunch13.30-15.00 WEO2017 focus theme, China's Energy OutlookProfessor Frank Jotzo, Crawford School of Public Policy,
Panel discussion and Q&A
Mr Qiang Wang, Embassy of the P.R. China in AustraliaDr Xunpeng (Roc) Shi, University of Technology Sydney
Mr Ben Jarvis, Department of Foreign Affairs and Trade
15.00-15.30 Afternoon Tea
15.30-17.00 WEO2017 focus theme – Making Sense of Australian Gas Policy
Presentation by Professor Quentin Grafton, Crawford School of Public PolicyPanel discussion and Q&A
17.00-17.10 Dr Ross Lambie, Department of the Environment and EnergyMr Damian Dwyer, Australian Petroleum Production & Exploration Association
Dr Justine Lacey, CSIRO Land and Water
Closing remarks - Professor Ken Baldwin, Director, Energy Change Institute
ACT Government/ANU Solar Oration Program
(also held in the Copland Theatre)
17.15 Finger food and drinks served in the foyer
18.00 Welcome
Professor Michael Cardew-Hall, ANU Pro-Vice Chancellor (Innovation)
18.02 Update on progress towards 100% renewable energy in the ACT and
presentation of student prize.
Mr Shane Rattenbury, ACT Minister for Climate Change and Sustainability
18.08 Introduction
Professor Andrew Blakers, Research School of Engineering
18.10 The Australian Energy Transition Ms Audrey Zibelman, CEO of the Australian Energy Market Operator
19.10 Q&A
19.40 Close