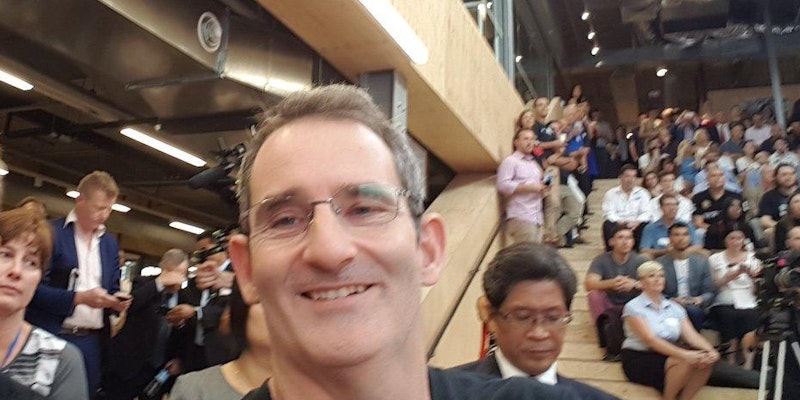 Universities need to counter the "universities kill innovation" view in the entrepreneurial community. This was evident in Steve Baxter's talk at River City Labs in Brisbane last Friday.
On Friday I had some free time in Brisbane so I went along to
River City Labs
Entrepreneur's Story Evening
. River City Labs is a coworking space, much like Fishburners in Sydney and Entry 29 in Canberra.
Those wanting to start a new tech business get some office space and help.
River City Labs is in the historic TCB Building at Level 3, 315 Brunswick Street Fortitude Valley. They recently moved from around the corner in Wickham Street (some events in Eventbrite still have the old address). Like many start-up spaces, River City Labs seems to delight in being hard to find. You go down an almost deserted shopping arcade and turn left into a passageway which apparently ends with a blank brick wall. Closer examination shows this is a lift lobby, with the lift doors disguised in brick pattern wallpaper (why?). The only way I found the place was people coming out wearing jeans, black shirts and carrying laptops (the Steve Jobs looks). ;-)
Once inside, River City Labs is a world-within-a-world. This multistory space is fitted out in the usual New York Loft warehouse style of co-working spaces: bare wooden floorboards, bare brick-walls and services visible on the ceiling. There is glass partitioning, making the most of the light from the clerestory windows of the large atrium.
Steve Baxter
, as it turns out is not only one of the founders of River City Labs but also appears on the Australian TV series
Shark Tank
. Steve is originally from Brisbane, made his mark as an ISP pioneer in Adelaide, then in the USA before returning to Brisbane.
Steve made several comments about the role of universities in innovation, both in his talk and in answering questions after. What he seemed to be saying was that successful tech startups are founded by technologically competent entrepreneurs, not business people. Steve suggested that the tech entrepreneur could obtain business advice and training, but a business person without the needed tech training would have more difficulty.
Steve seemed keen for school leavers to undertake tech degrees at university, but otherwise did not want universities involved in innovation. It was not clear to me what he thought universities were doing that they shouldn't do. Apart from educating students, universities conduct fundamental and, some applied, research. My preferred approach for university research to be exploited is the
Cambridge Phenomenon Model
: some of the graduates involved with the research transition to the private sector to commercially exploit the work, with the institution perhaps retaining a financial interest. The hands off approach where the scientist hands their work to a company to develop does not work well: the scientist has to get their hands dirty working in industry.
After Steve's anti-university comments I got a laugh asking the last question, when I mentioned I was associated with ANU (I happened to be wearing a black t-shirt with "ANU" in very large white letters). I pointed out that some tech students in Canberra are encouraged to go to the Canberra Innovation Network (equivalent to River City Labs) to learn about entrepreneurship, they then receive credit for the project work they do. Programs such as
ANU Techlauncher
try to balance the academic and practical aspects. Steve seemed to like this idea.
If entrepreneurs have the idea that universities just turn out academics of no value to industry, then this will become a self fulfilling prophecy. I don't agree with Steve that universities should just produce tech graduates. The universities can also teach tech graduates some basic business skills: how to make a presentation, plan a project, work about cost and what the client wants. Also universities can provide sub-degree and shorter post-degree education to help entrepreneurs. It doesn't have to be a school-university-job production like of people.