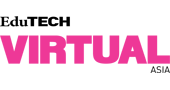 Greetings from the
EduTech Asia Virtual conference
, which started 23 June and runs until 26. This is using the
Swapcard
event system. This provides the agenda for the conference and an easy way to select presentations you would like to attend, then reminds you when they are on. It also provides service to match you up with like minded people, and book one on one sessions with speakers.
Added to this is that you can attend virtual events using video streaming and conference services. The
EduTech round-table sessions
are using Microsoft Teams, which works adequately. I am not sure what streaming technology the main sessions are using, but I can't get it to work on my laptop (it streams okay on the Android app).
What appears to be missing from this online conference experience so far is the exhibition: my favorite part. This is you can wander around looking at product displays, talking to vendors, and bumping into people. How would you replicate this online?